Biolight is helping the bodies natural healing abilities to heal and repair at a cellular level. It is an effective and natural method used by elite athletes all over the world. Red light and near infrared light in different wavelengths and pulsations makes healthy people perform more and injured people heal faster.
Biolight can be used for many areas in our life such as enhanced wellbeing to treating acute injuries or various conditions in the body and of the skin. I often combine Biolight with a Sports Massage afterwards, since the muscles and tissues are very relaxed and already healing so it is working great together.
Perfect to recover from a good surf session, to treat any shoulder, lower back or neck injuries.
Most of the people that get a Biolight treatment feel much better after just one or a few treatments. The Biolight method has the same health benefits as a laser but is natural and harmless.
Biolight stimulates the energy in the cells, stimulates growth of new blood vessels, increases blood flow, enhances DNA-Synthesis, stimulates healing and enhances removal of waste or lactate acid in the cells of the human body. More about the technique behind Biolight below.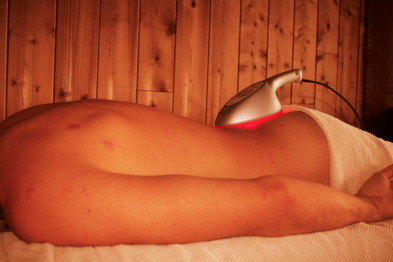 ---
Some of the areas Biolight is used for people and animals:
To stimulate your Energy – The high frequencies 950nm balances and increases the flow of energy through your chakra systems and meridian channels. An optimal treatment to enhance wellbeing (favoured by Yogi's)
Faster healing of injuries – Injuries such as strains, ruptures, swelling, and fractures can heal up to 2x fast with Biolight
Wounds / Scars
Common Surf and sport injuries
A special Acupuncture program (without needles) – Activating and stimulating Traditional Chinese Medicine Acupuncture points. Acupuncture has many health benefits such as reduced pain, reduced stress, relaxation etc.
Before competition or exercise – increasing flow of energy to major muscle groups.
After competition – to recover faster with removal of lactate acid and waste products.
Pre & Post Surgery – to promote quicker healing and reduce trauma, swelling and scar tissue.
---
Pricing for Biolight treatment
In area's or conditions where massage is not necessary, such as wounds, nervous system, fibromyalgia, scars or face treatment, I recommend just a Biolight treatment without massage:
30 minutes: € 35,-
Package of 4 sessions of 30 minutes: € 120,- ( € 30,- per session)
---
Massage including Biolight treatment
Biolight treatment is well combined with a Sports massage or deep tissue massage afterwards – after Biolight treatment, the muscles and tissues are relaxed and receivable so it is optimal with a Sports or Deep Tissue massage.
60 minutes € 65,-
90 minutes € 85,-
Package of 4 sessions of 60 minutes: € 220,- ( € 55- per session)
Package of 4 sessions of 90 minutes: € 300,- (€75,- per session)
Get in touch with me to talk and explain about your injury or condition and from there I can suggest which kind of treatment for that suits best for you. I also offer my clients that buy a package rehabilitation program with exercises and help if is desired/needed.
---
You are welcome to come to my therapy room at Surf Yoga Portugal in Ericeira, or I can come to you and set up a space for the massage.
After the treatment you can continue normal daily life and participate in your sports or activities.
For a small injury one treatment can be enough to heal
For problems or injuries that have been ongoing for longer than 6 months I recommend starting with 4 treatments.
---
The technique behind Biolight
The technique Biolight is based on is Low Level Light Therapy (short LLLT ) which is a major well known concept among scientists all over the world.
I choose to work with Biolight because it is the leading device on the market since 1993 with its 280 LED lights of unpolarised light which pulsates up to 10 000 times per second.
Biolight uses variations of 2 specific wavelengths of unpolarised light:
| | |
| --- | --- |
| The Red Light 637 nm: | The Near Infrared Light 950 nm: |
| Suppresses inflammations | Reduces inflammation |
| Stimulates collagen formation | Healing wounds |
| Stimulates tissue regeneration | Gives pain relief |
| Increases blood circulation | Increases blood circulation |
| | Increases activity in the lymphatic system |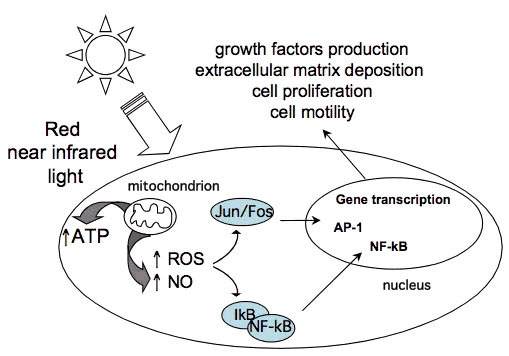 The concept is based on Low level light therapy has been very well known already since 1970s. If you would like to know more about the research done behind Biolight, I have gathered some great scientific articles on this page.